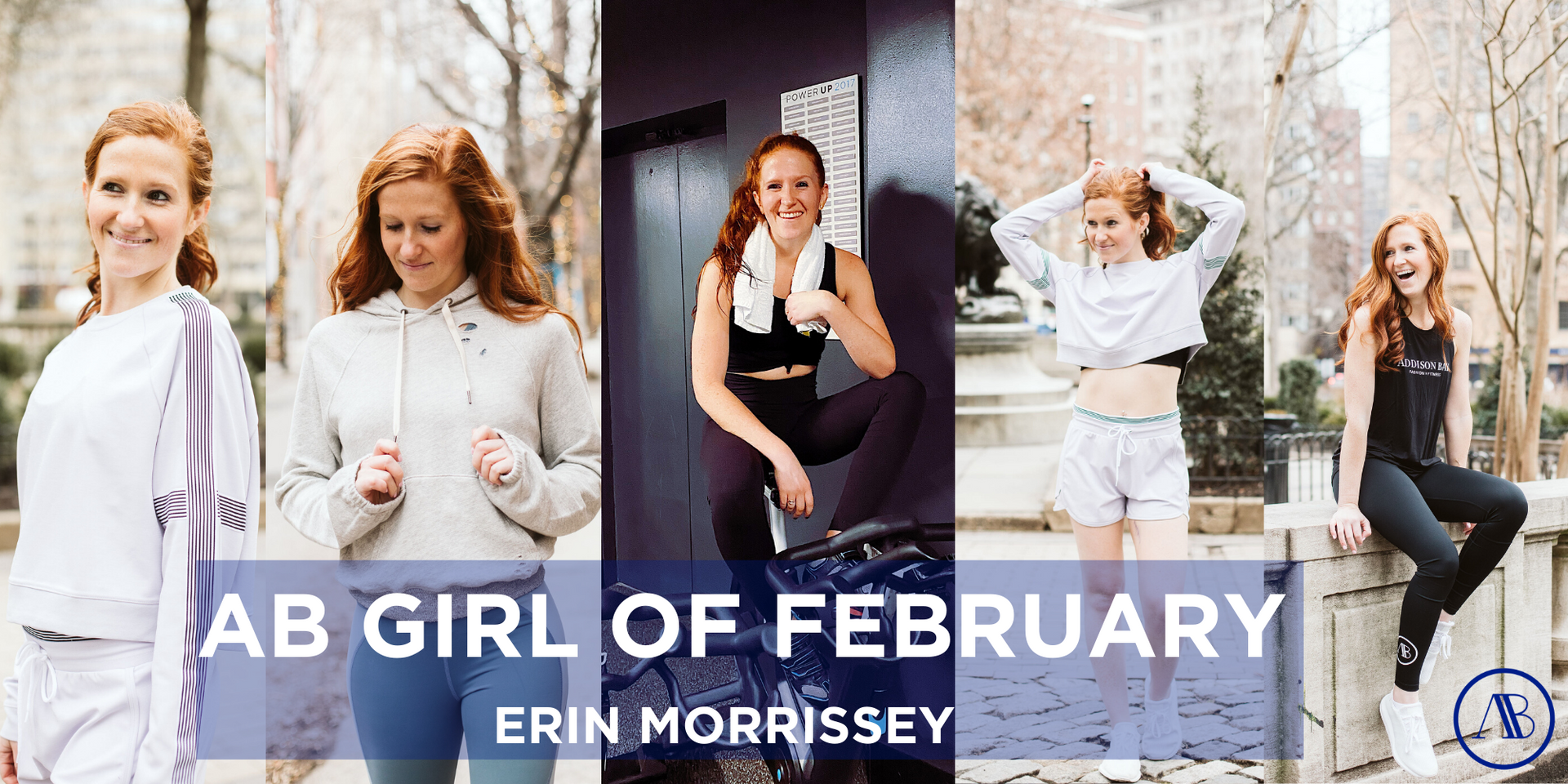 AB Girl of February: Erin Morrissey ♥
Our Addison Bay girl of February is the incredible Erin Morrisey, the face behind Erin Lives Whole, a health and wellness blog where she gives her readers healthy recipes and lifestyle tips to help them live a happier and healthier life. Erin is one of our AB brand BFFs, and we're so excited to have her as our Feb girl of the month! Check out the interview below to learn more about the woman behind the blog.


Erin is the definition of an AB girl. The AB girl is confident. She is loyal to her family, cherished friends, and familiar places. Her thoughtful appearance, great attitude, and friendly demeanor, makes her a favorite in every environment. Her dynamic personality makes her a friend that others trust and seek advice from. She is constantly on the go and spends the day juggling multiple activities
. 


When asked about what being an AB girl means to her Erin said " it means being a total badass who doesn't stop when something doesn't go her way. Being resilient and flexible, while also pursuing her biggest dreams." Erin is certainly a poster girl for pursuing dreams,her biggest accomplishment so far was quitting her corporate job at age 25 to pursue her passion and be a full time blogger. This was a huge transition to make, but it ended up paying off for her BIG TIME. 
An important part of Erin's daily routine is getting in a workout, exercise is a 100000% non-negotiable part of her day. Right now her fave workout is spinning at Flywheel, which she thinks is one of the hardest workouts in Philly. She loves how it's both a physical and mental experience. She says "the instructors do a great job of getting into my head, pumping me up, and turning my day around." 
Even though she's got a big personality on social media, in real life Erin is as much an introvert as she is an extrovert: "I love hanging out with my friends equally as much as I love sitting on my couch watching Netflix." 
Erin had some really meaningful advice for young girls, especially those who are interested in healthy eating and fitness. She said, "I think being healthy means more than just eating healthy and working out. I actually think it's way more than that. Eating healthy and working out is just one part of it, I think being healthy means being able to live life in the moment with a positive mindset. Being too strict or too restrictive never leads to any healthy mindset or behaviors! I wish I could have told this to myself in the past." With that advice in mind, Erin told us that her fave indulgence is Reeses Peanut Butter cups, she can never get enough of them!!
Cannot get enough of this AB girl? Keep up with Erin on her social media account @erinliveswhole.