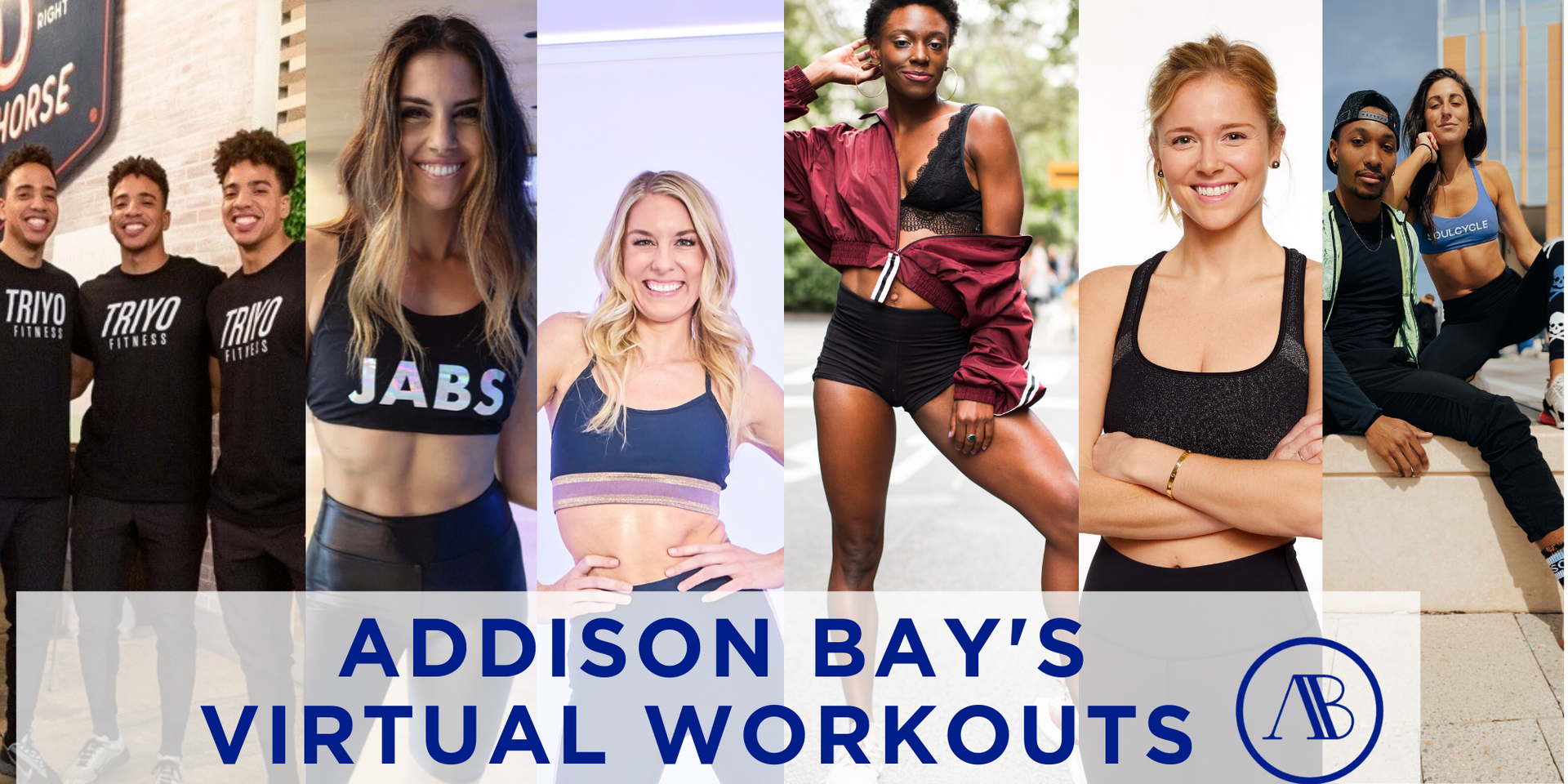 Addison Bay Virtual Instagram Workouts Week of March 23rd ♥
Addison Bay is here to help you fight your cabin fever! If you're like us, you might be going a little stir crazy without a daily dose of your favorite workout class. Luckily for all of us, some of the top fitness instructors in Philadelphia & NYC  will be live streaming a special workout from the Addison Bay Instagram right into your house. All of our instructors have designed workouts that can be done with little to no equipment and won't take up more space than you have in your living room!
Here's the lineup for our virtual classes:
3/23 @ 6 PM- Triyo Fitness with Malik, Khalil, and Ahmad Jones
We're starting off strong with Philly's favorite triplets! Triyo fitness will be giving you a 45-minute total-body workout! All you need to bring to this workout is yourself, and a mat if you want one. This is a high-intensity cardio and strength workout, perfect for all of our HIIT lovers!
Tuesday afternoon means cardio dance party! Another HIIT style workout, JABS incorporates punches and kicks into a dance class that will get you to your max heart rate. 
Your Wednesday will be off to a great start with 305 Fitness! This workout is an eclectic combo of dance moves, sports drills, and high intensity interval training gives you a full body workout that will remind you of night-out partying with friends. 
3/26 @ 12 PM- Soul Arms and Abs 
Believe it or not, we're bringing SoulCycle to you via
Maddie Copeland
! A member of the Soul Philly fam Maddie will be taking you through her favorite arms and abs circuit. Use 5/10/15 lb. weights, or whatever you can find around the house to substitute!
Jax&Lo is bringing the Friday energy with a combo of  HIIT and bodyweight classes that have a booty pump component! This session requires no equipment, just bring your body and find an open space in the house. Workout brought to you by
Lauren Stevis
&
Greg
3/28 @ 12 PM - Dance and Sculpt
Dance and Sculpt with
Madelaine O'Connell
, an instructor with
obe fitness
, is designed to elevate your heart rate, enhance your coordination and increase your stamina. Dance and Sculpt will tone, lengthen, and sculpt your body with creative exercise sequencing aimed at fatiguing each muscle group in between cardio rounds.