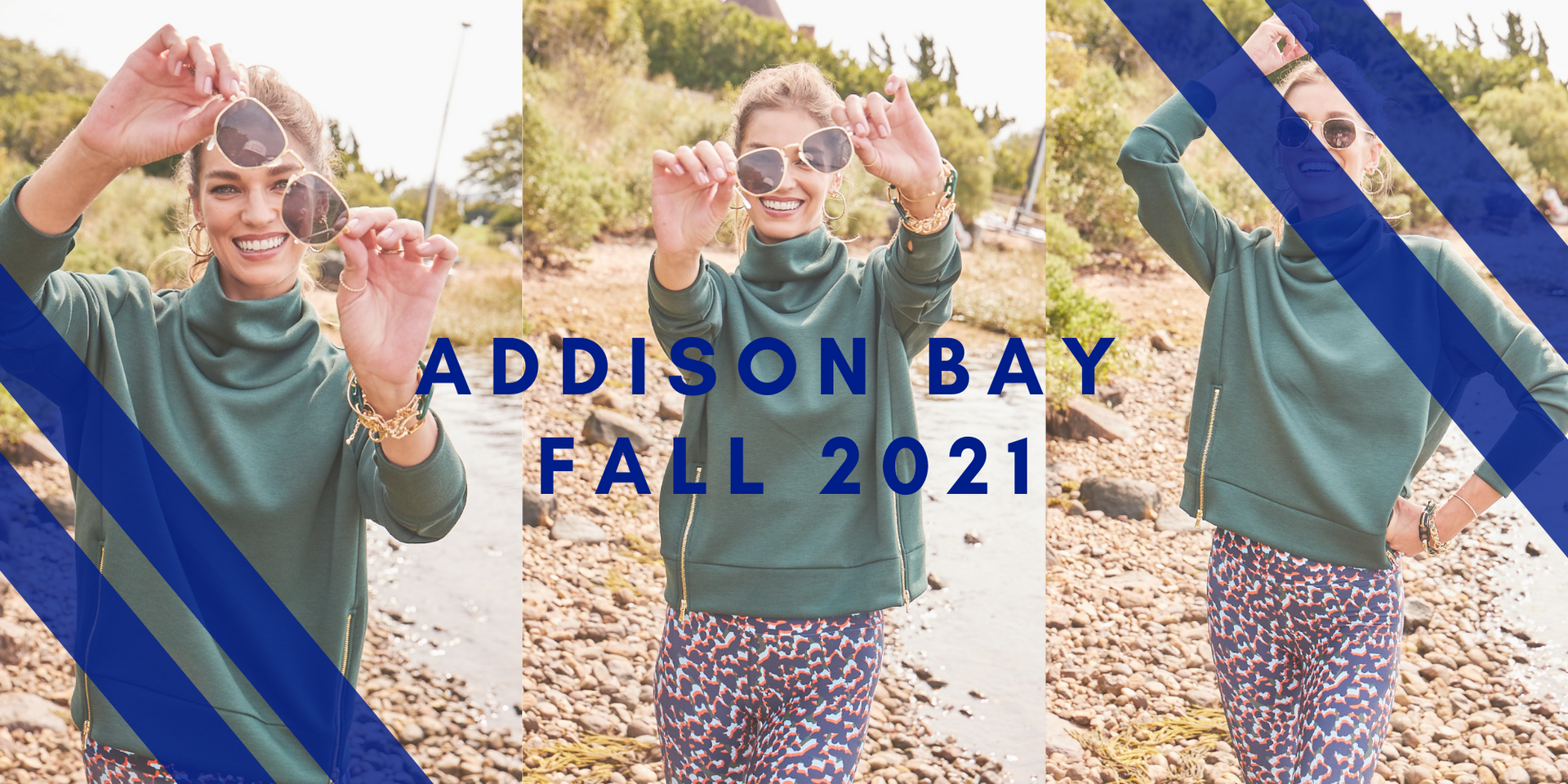 Fall 2021: The Collection That Does It All.

"IT'S OFFICIAL: Fall is here. I love love love Summer but feeling unbelievably excited for Fall this year. The change in weather, the back-to-school 'new year' kind of feeling, some semblance of routine, so much to look forward to. Fall 2021 is the largest collection to date and we are so proud of innovative designs that you've never seen before. We started dreaming this collection up last Summer/Fall when I was on maternity leave with my son. Fast forward to a year later, the collection came to life on set in Montauk last week with an insanely talented crew.
Get ready for new styles, new prints, and new fabrications that will truly take you
from 7am to 7pm."


While sad to see summer go, we truly could not be more excited to introduce our Fall 2021 Collection! The past few months have been nothing short of amazing. Celebrating birthdays, weddings, and milestones of all kinds, both near and far. Opening our first brick and mortar store in Avalon, NJ. Introducing our Happy Place Summer Capsule. And did we mention being in VOGUE? ALL before our THIRD birthday? We're just getting started...


We aimed to create a collection that not only supports the AB Girl, but inspires her to reach new heights. From every AM workout, errand, school pick up, excursion & beyond, we created a collection that is highly technical with an elevated yet relaxed aesthetic. The fit and function of each piece is designed to create the modern wardrobe for the modern woman and her multitasking, on-the-go lifestyle from 7am to 7pm.


The Addison Bay collection is unique in the sense that it is both high performance activewear AND ready-to-wear. Our collection is an assortment of versatile pieces that feel as good in a workout class as they do on the go. We know that getting dressed is the foundation of your day and Addison Bay is meant to serve as our unofficial starter pack for our customers. These elevated pieces are the building blocks to her wardrobe that can be worn from 7am to 7pm.


Meet the Fall 2021 Addison Bay Collection. A selection of 17 brand new styles and 9 updated favorites, the Fall Collection wholeheartedly embodies the brand ethos: Style & Comfort. Everyday pieces to make you look and feel your absolute best. Elevated outerwear that takes you from 7am to 7pm. Cozy tops that you can wear back to back to back, from leggings to biker shorts and denim alike. Chic bottoms you will never want to take off. Fashion forward, meet function.

From a rolled collar neckline, high-low hem, and side zipper detail, the Ridley Crewneck is versatile enough to carry you through the day. Featuring three new colorways, including a new Addison Bay EXCLUSIVE print, our take on a colorful camo. The Black/Heather Grey and Navy/White/Pink colorways feature diagonal color blocking stripe detail, while the Animal Camo is a new AB EXCLUSIVE print for Fall 2021! Perfect for chilly morning strolls to the bus stop, mid-week grocery hauls, and every fall activity in between.

The Poplar Pullover is a fall essential. This polished pull on style, quarter zip is your new chic grab-and-go piece. We took our best selling Cambridge Top and Filbert Quarter Zip and made this top with everything you loved so much about the both of them. Long sleeves + layered shoulders with ruffle detail = both the fashion and functionality the AB Girl craves every single day. Three colorways offer a match for any occasion: Black, Heather Grey, and Slate Blue. Ribbed cuffs and hem highlight the most perfect finishing touch to this pullover. Style back to The Jane Pant for the ultimate polished head to toe look.



The Jane Pant is the definition of 7am to 7pm staple. The slim and tapered fit polished pant offers an elastic waistband and side pockets. A tapered fit at the ankle provides the AB Girl a chance to dress it up or dress it down in three colorways: Navy, Black and Slate Blue. Stylish but also incredibly functional for your lifestyle. Our stylist loves pairing this pant back to the Poplar Pullover for a monochromatic head to toe polished look.


The Iverson Pullover combines so many stylish yet functional details that we L.O.V.E. An update to our cult favorite Everyday Pullover- features a high, funnel neck that provides a boxy-yet-structured fit, in our new performance scuba fabrication with sweat wicking properties Offered in three colorways - Navy, Black, and White - the Iverson is the perfect addition to any outfit. The body of the pullover starts with the drop-shoulder, continuing to the cinched waist with a multi-colored drawcord and welt pockets. Perfect to pair with leggings for a quick casual look, or your favorite jeans for happy hour.



The Hamilton Sweatshirt brings a new take on the classic hoodie. Meet our newest sweatshirt style which is designed in two new colorways, Papaya/Animal Camo and White/Multi-Stripe. This hoodie style sweatshirt features a printed interior hood and high-low hem. And the best part? Perfect for a morning workout and coffee run, or to help you tackle the day.


Craving basics? The Chester Long Sleeve is a new take on a not so basic basic. This relaxed fit, scoop neckline long sleeve will be the shirt you have been reaching into your closet for, but never found. Featured in the softest most luxurious fabrication yet. Style details include a curved hemline with 2" side slits and thumbhole cuffs make The Chester ready to tackle any fall activity on this year's agenda. Three colorways (Black, White, and White & Slate Blue Stripe) provide an option for any outfit.

This fashion-forward pullover was made for your busy lifestyle… and guess what? T-W-O new colorways: Evergreen and Heather Slate. The Everyday Pullover offers Addison Bay's signature turtleneck, cuffed sleeves, and bottom. Two gold zippers up the front give the perfect shape to this versatile top that your closet has been asking for. A piece that is stylish yet functional -- AKA, you might never want to take it off!



Our best selling Everyday Pullover but in a crewneck. The Everyday Crewneck is back and in three new colorways: Navy, Black, and Camel. Highlighting all of the same loved features as the OG style but now in a ribbed fabrication. Two gold zippers up the front and thumb holes at cuffs ensure comfort is not sacrificed for a chic look. You may have just found your new favorite.


It'S BACK! The Logan Bra features a high neckline and racerback detail, while offering support, comfort, and style all in one. This reversible sports bra offers a bold printed side featuring our Addison Bay EXCLUSIVE Animal Camo print, while the solid navy side provides a classic wardrobe staple. Now the only difficult part is deciding which side to wear first. Make sure to pair with the Everyday Legging 2.0 in Animal Camo for the perfect set moment!



Welcome back the leggings that are SO amazing they have sold out every season: The Everyday Legging 2.0. A wardrobe staple, for every season, you will never want to take off. The 7/8 length, 2" high(er) waistband, sweat-wicking fabric make them functional for any workout, and fashionable for your day to day events. Coming in three new colorways (Navy/White, Black, and Animal Camo/White/Pacific Blue), the simple yet stylish colored stripes around the left leg add the perfect detail to make these leggings pop.

Xx,
Team AB