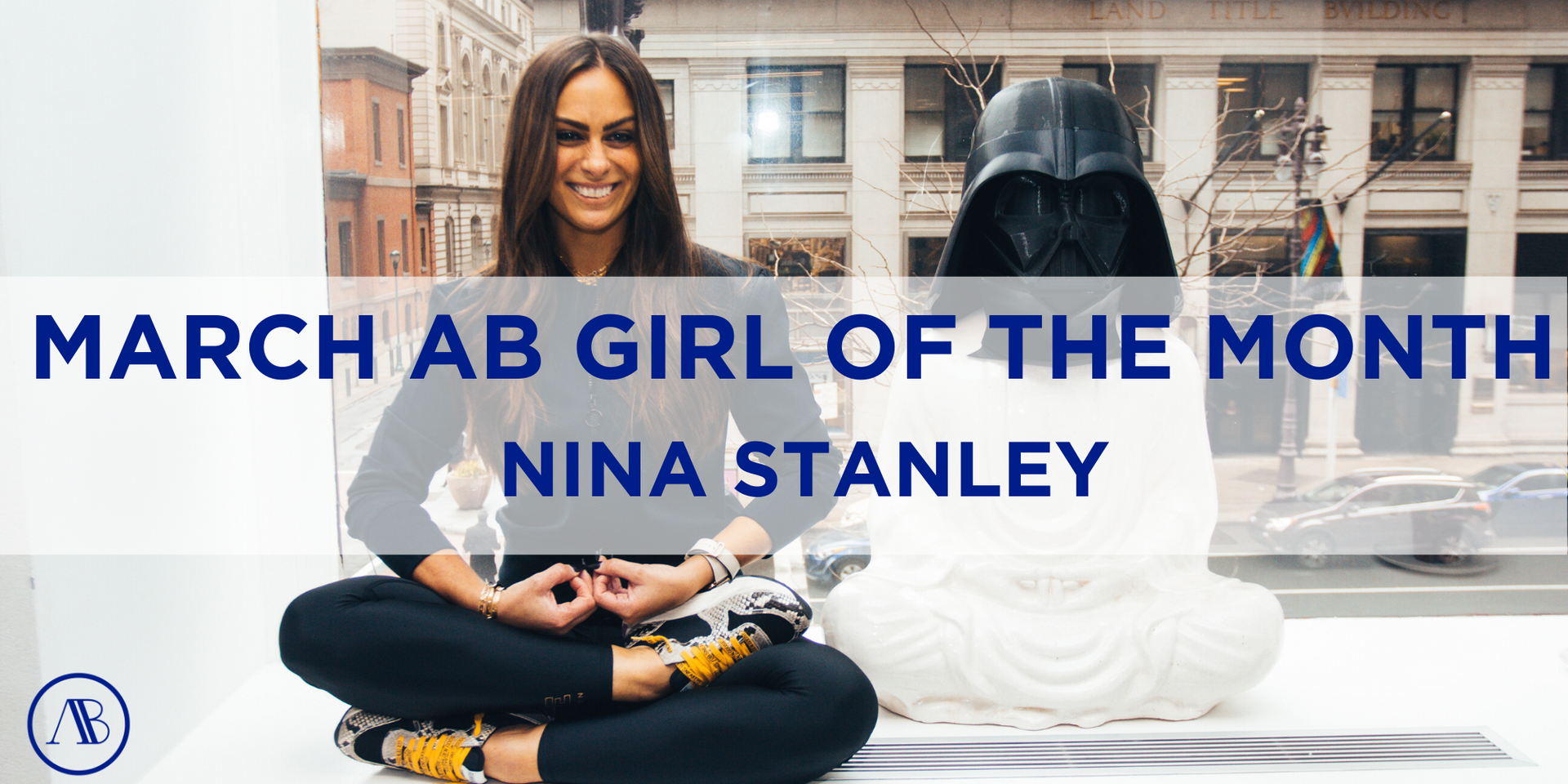 March AB Girl of the Month...Nina Stanley ♥
We're so excited to announce our March Girl of the Month….Nina Stanley! The three big words that Nina would use to describe herself are boss, wifey, and momma. Nina is the Chief Creative and Neuromarketing Officer for MOD, one of Philadelphia's top design firms. When asked what it means to be an AB girl Nina told us: "strength, confidence and kindness."


As a mentor to young girls, Nina gave us great advice to pass on to women and girls who are getting started in their career. According to Nina, everyone should learn to accept a compliment gracefully: "Even if you don't truly believe it at the time, say thank you! Don't spend the next 15 minutes trying to convince the compliment-giver why they're wrong." Nina also wants everyone to know that they shouldn't let their voice go up higher when they're asking for something asking for something or making an important point. "When you talk up, it takes any credibility away from what you're saying because you sound unsure."


As the owner of a new business and a working mom, Nina is constantly on the go. Her day-to-day consists of ping-ponging between working out, walking the city, meetings, presentations, her kids' school, client dinners, and everything else that pops up during the day. With this schedule, it's no surprise that her biggest indulgence is being lazy every once in a while!


When Nina does have time for a workout, her go-tos are yoga, barre, and pilates. As an ex-ballerina, she loves anything that feels a little bit similar to dance. When she's stressed out these types of workouts help to center her and calm her mind, which is essential with Nina's busy schedule. 


As she gets dressed in the morning Nina needs clothes that will work just as hard as she does, and are able to adapt to a crazy schedule that changes all the time. Quality is the most important AKA she looks for clothes that are comfortable and fit well...and they have to come in black of course!

Nina is an inspirational and incredibly busy woman. So far she has two massive accomplishments, one being starting her company when her first-born was just 3 months old (we love a new mom starting a business) and her other (equally as big) accomplishment was overcoming female-specific cardiovascular disease and open heart surgery. 


When asked about her secret talents Nina had too many great ones to pick just one. She's an ex-backup dancer in music videos, she can flawlessly lip-synch "Juicy" by Notorious B.I.G., AND she can recite every line from Star Wars, "A New Hope."