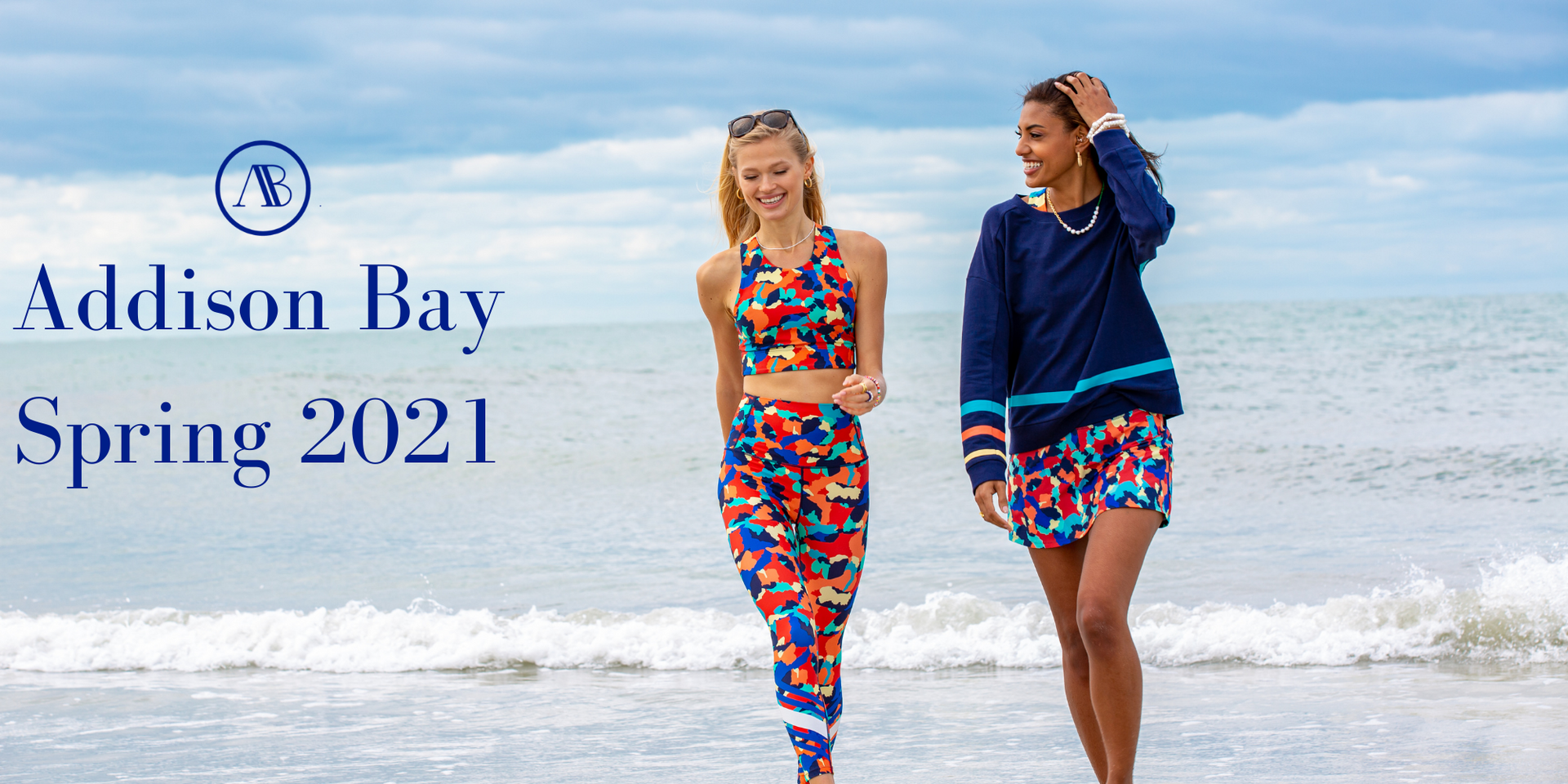 SPRING 2021
IT'S FINALLY HERE. The Addison Bay Spring 2021 Collection. Inspired by YOU. Everything was designed, produced, color assorted, and fitted with YOU top of mind. To make you look and feel your absolute best. Notice our first ever Addison Bay EXCLUSIVE print? A colorful camouflage- your classic favorite, mixed with the energy and color of spring and summer, to really bring it to life.  P.S. We have more Addison Bay product than EVER. Seriously, we ordered almost eight times as much as we did last year. Which is good news for you. More AB, more frequently, more fun. 

"Spring is extra special for multiple reasons. We designed the collection in a pandemic – designing and producing the collection over zoom, fittings in driveways, passing off samples to multiple team members, the list of goes on. This is our first season with a designer from the early developmental stages and it added the differentiated layer that we were missing. Highlights include our first custom prints, our colorful camo and shibori tie dye, 16 brand new styles, including our first sports bra and biker short, and newness in our core space. It all came together and looks beautiful – proud is an understatement."- Marguerite Adzick, Founder & CEO.

This year we packed our bags and headed somewhere sunny to shoot our Spring campaign. Lots of sunshine, happy memories, and an optimistic look at what's coming for the back half of 2021: more life, more fun, more hugs, more AB. "Naples is extra special to my family and I – my husband and I got married here in 2015 and my parents spend a ton of time there. I love the west side of Florida – the combination of the white sandy beaches and extra clear water make it feel the Caribbean (without the longer flight). Naples felt like the perfect backdrop to our Spring 2021 collection with the fresh colors of the season."- Marguerite Adzick, Founder & CEO.

Our customer is our North Star and we strive to support her from every AM workout, errand, school pick up, excursion & beyond. We listened to her and drew inspiration to create a collection that is highly technical with an elevated yet relaxed aesthetic. The fit and function of each piece is meant to create the modern wardrobe for the modern woman and her multi-tasking, on-the-go lifestyle.

The Addison Bay collection is unique in the sense that it is both high performance activewear AND ready-to-wear. Our collection is an assortment of versatile pieces that feel as good in a workout class as they do on the go. We know that getting dressed is the foundation of your day and Addison Bay is meant to serve as our unofficial starter pack for our customers. These elevated pieces are the building blocks to her wardrobe that can be worn from 7am to 7pm.